Coachella Day Two: There's Some Thing in Your Eye
cobrien
|
04/13/2014 | Filed In:
Coachella | Coachella 2014 | Empire of the Sun | Holy Ghost | Holy Ghost! | Fatboy Slim | Norman Cook | Corey O'Brien | California | Muse | Pet Shop Boys

Even though Coachella is a desert paradise, it's still a desert and the desert was angry that day. Wind threw up and spit dust everywhere (I'm in the blue shirt in the picture above - pure Bedouin style). The road into Coachella was an hour and a half parking lot, which eventually dumped my group into a dusty dash to our first must-see of the day: Holy Ghost! Some sadistic programmer placed them opposite of Julian Casablancas. At Coachella you remind yourself that this isn't really a problem and move along. The festival has been more crowded than any year I can remember. Elbow to elbow. Hipster to hipster. Holy Ghost! was great, though. They starting with "Dirty Disco Ideas" and closed with "Wait and See." It was a good day to dance and this was a nice warm up.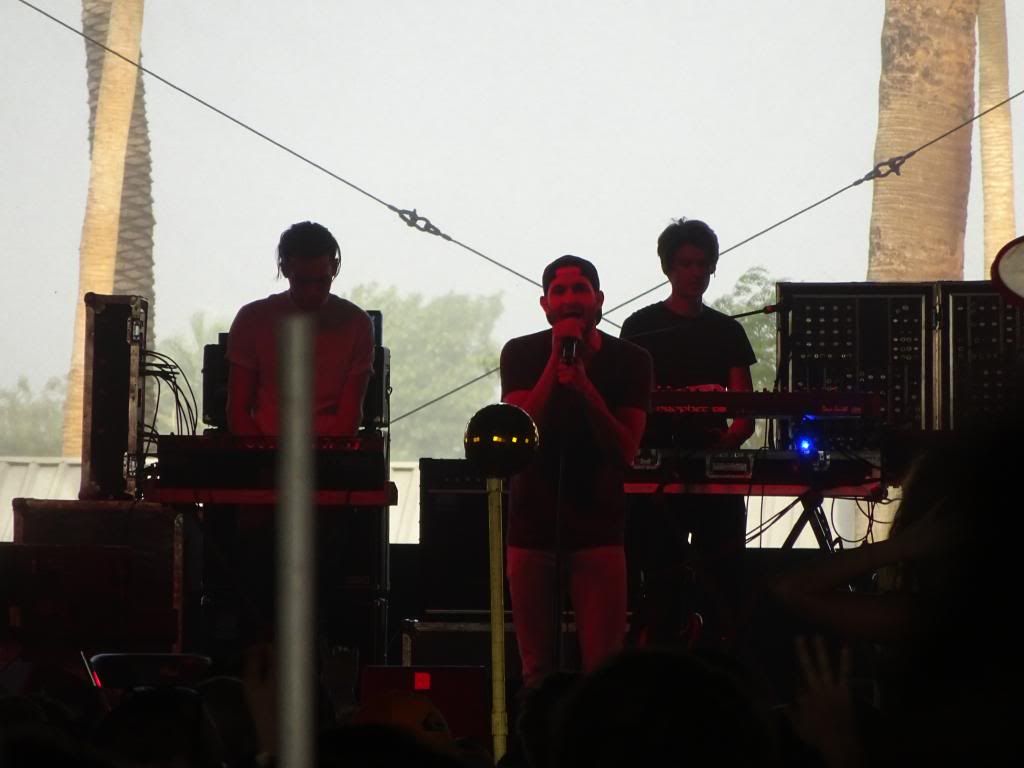 Morale was strong at this point and we headed toward one of the three luscious beer gardens for Spicy Pie (a pizza maker who only shows up at music festivals) and a cold one to drink, preparing ourselves for Fatboy Slim. Norman Cook did not give the performance I assume many were expecting: a mash-up of the classics. There was a bit of that sprinkled here and there, but this was anything but a trip down memory lane. It was a hard-core dance party and nothing more. "Eat. Sleep. Rave. Repeat." was the mantra pounded into the crowd the same way Alex was re-programmed in "A Clockwork Orange."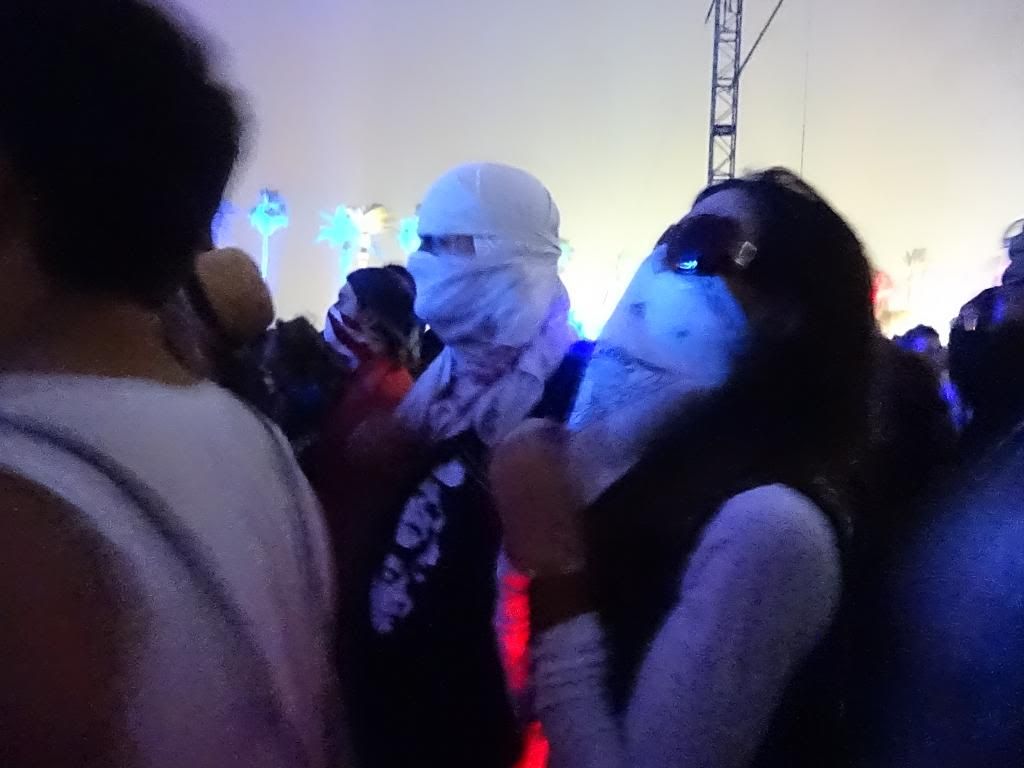 We should have not left the Sahra tent for another break after Fatboy. Take all the Wal-Marts in the bordering states on Black Friday and it wouldn't hold a flame to how crowded this enormous tent was packed. Literally busting at the seams. There was no way in, so we turned our blinky light toys off and walked away. I can't say I was heart-broken, though. At Coachella there's always options. We headed over to Pharrell Williams' set. Busta Rhymes, Snoop Dogg, Diplo and Gwen Stefani joined Pharrell. The latter putting a massive sing along of "Hollaback Girl." Shit was bananas, indeed. Pharrell also played his Daft Punk collaborations "Lose Yourself to Dance", "Get Lucky", and some N.E.R.D. material...even his verse in "Blurred Lines." This guy is truly the King of Pop...not that other guy...who isn's around anymore anyway.
The wind wasn't getting any better and the air was making our teeth brown and morale dingy. However, I was looking forward to Muse and/or Pet Shop Boys, but the group was quite tired and didn't want to spend 2 or more hours trying to get back to the homestead. Rock N' Roll was sacrificed that night in the name of adulthood. I will work on regressing for tomorrow, the final day. It's Calvin Harris, Beck, Arcade Fire and Blood Orange today. Time to rally.
---